How much do you know about Malaysia's past? For many Malaysians, the de facto history of this country began with the emergence of the Sultanate of Malacca in the early 15th century, followed by four and a half centuries of successive European imperialism until the declaration of independence from the dismantling British Empire in 1957.
So does that mean we don't have any history before that?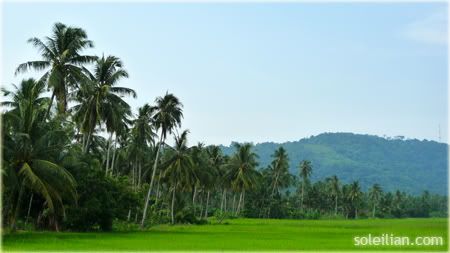 On our way to historic Lembah Bujang: a lush paddy field in Yan district, Kedah
In actual fact, we do have a rich and illustrious past, but sadly this part of history is often overlooked and hasn't been given enough attention and emphasis to leave a lasting impression on the minds of the people. Here's my rant: unlike other countries in the region which share similar cultural backgrounds (say, Indonesia), Malaysia pretty much scorns her pre-Islamic past and anything that is associated with that spiritually unenlightened period. One thousand years of history prior to Malacca's rise to power and glory is being deliberately washed down the drain, leaving it largely ignored, forgotten, and erased from popular memory.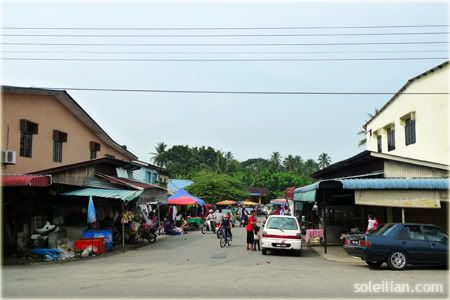 Merbok town, gateway to the archaeologically rich Lembah Bujang complex
Here's another lesser known fact: when the Sultanate of Malacca was founded by the Sumatran prince Parameswara in 1402, it was first established as a Hindu kingdom before becoming an Islamic sultanate in 1409 upon the prince's marriage to a Muslim princess of Pasai and his simultaneous conversion to Islam (though some disputed his conversion as there is no clear evidence that he had actually converted; his actual grave is still yet to be found. Had he remained a Hindu, it is likely that his body was cremated in accordance to Hindu rites, which would then explain the missing grave.)
And did you know that the 2nd and 4th sultans of Malacca were practising Hindus despite assuming Muslim royal titles and names? This, along with the 7-year gap of the kingdom's Hindu beginnings are muted and not mentioned even once in our history books. You be the judge.
The small and unpretentious Archaeology Museum of Bujang Valley. Admission is free as the tourism potentials of Lembah Bujang aren't fully developed and exploited yet.
Now let's get back to the topic. Lembah Bujang (Bujang Valley), situated in my home state of Kedah, is the richest archaeological area to be unearthed in Malaysia. Spanning a period of almost 1,500 years, the sprawling 224km² ancient complex is one of the early Indianized settlements to flourish in the Malay Peninsula, together with other legendary lost kingdoms like Langkasuka (Kedah-Pattani), Pan Pan (Kelantan/Terengganu), Chi Tu (Kelantan/Pahang/Songkhla-Pattani), and Gangga Negara (Perak). It is believed to be a part of Kadaram (Old Kedah), the ancient civilization that preceded the modern-day Sultanate of Kedah.
The expansion of Indian maritime trades throughout that period resulted in the adoption of Indian cultural and political models by all these kingdoms, a move that left a significant impact on the development of the language and culture of the Malay people up to the present day. The rulers and subjects of that period were either Hindu or Buddhist ~ both great Indian exports, but the arrival of Islam in the second millennium and the creation of new Muslim states soon brought to the eventual demise of the indigenous Malay Hindu-Buddhist civilizations.
Ancient Hindu bas-reliefs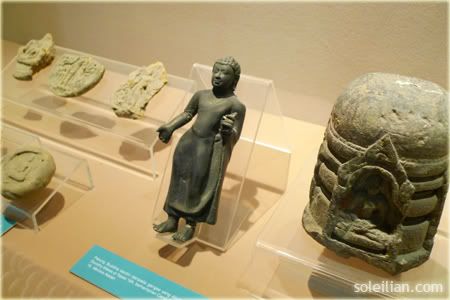 These delicate Buddhist relics allow us a rare glimpse of the superb craftsmanship of the ancient Malay artisans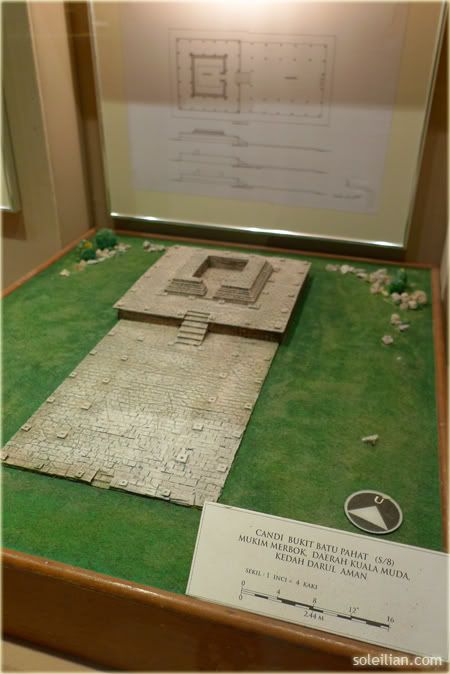 A miniature model of the Hindu Candi Bukit Batu Pahat (candi: ancient temple), the mother temple in Lembah Bujang. Its precise construction date is disputed; the temple was built either in the 7th-8th century or more recently in the 12th-13th century.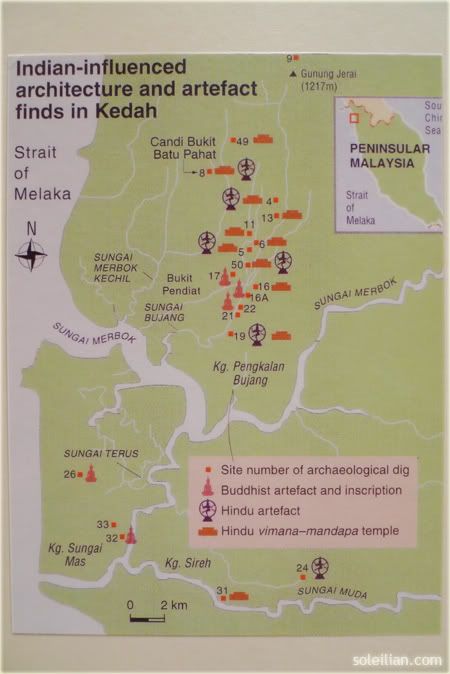 Important archaeological finds in Kedah, mostly concentrated in Lembah Bujang, where the banks of the Merbok River provided a great and fertile environment for early settlements and trades
3rd-century remains of the Perahu Sagor (Sagor Boat), a traditional sailing boat made from a single log and was the main transportation used by the locals to trade at the Merbok River estuary in Lembah Bujang
A forward-thinking country that appreciates her past, good or bad, would not hesitate to tap on the huge tourism potentials of such a rich historic site by vigorously promoting it to the whole world. But I don't see that happening here. Why isn't the Malaysian Government putting enough effort into this? Of all major Malaysian tourism promotional materials and advertisements, I don't even see a shadow of Lembah Bujang nor the mere mention of its name. This is so utterly ridiculous!
It is beyond me why there are people in this world that would allow their perception of faith to manipulate their views to the extent that they are ever ready to sacrifice a nation's cultural wealth and heritage. These precious archaeological ruins and finds are of universal value, meant to be shared, treasured, and appreciated by all. Yet unfortunately, all I see is just nonchalance. How can I not be pissed?!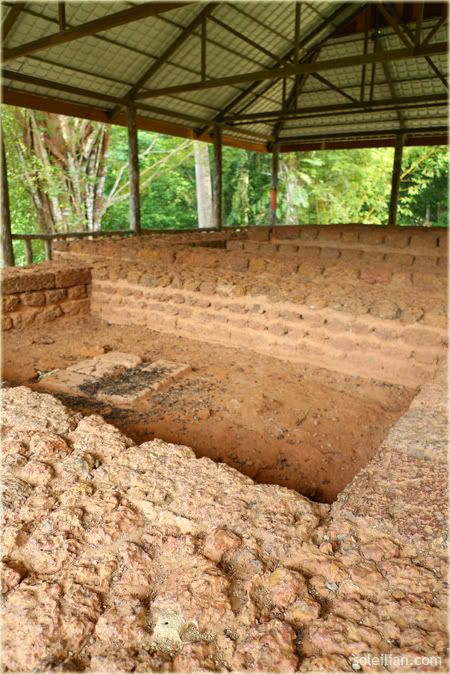 Hindu Candi Pendiat, believed to be built in the 11th century. A shelter has been erected to protect its ruins from rain or shine.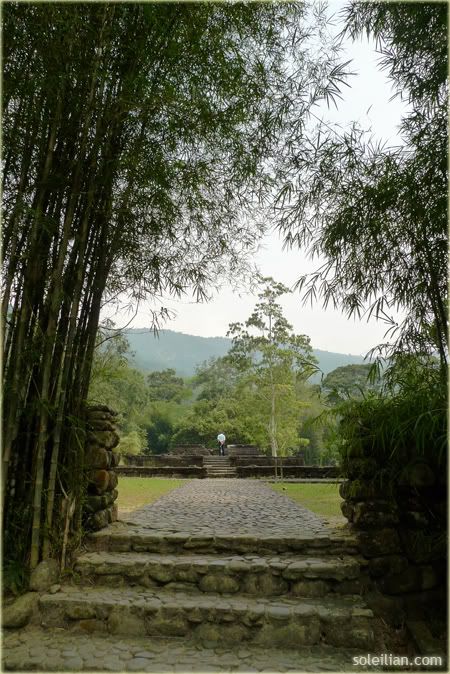 A commanding entrance to the largest and most important temple discovered in Lembah Bujang, Candi Bukit Batu Pahat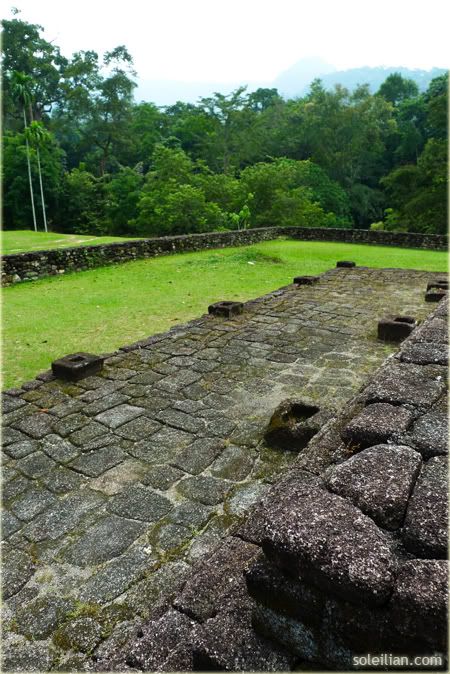 Found by the Cambridge-educated Dr. Quaritch Wales in the mid-1930s, the collapsed temple was reconstructed in 1960 at its original place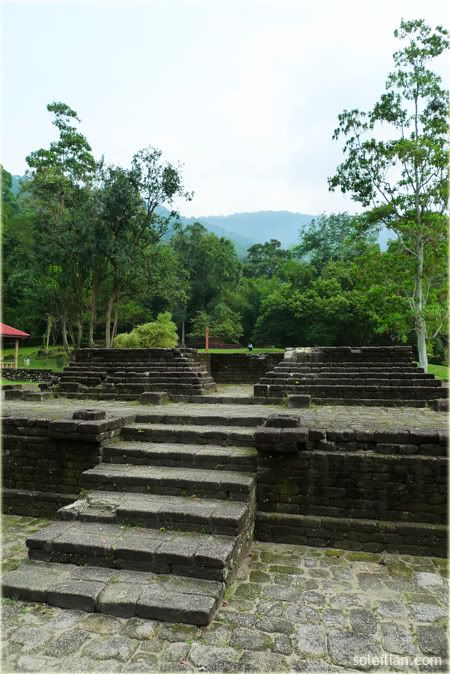 Archaeological research shows that the roof was made of palm leaves with 66 pillar bases, but like the rest of the temple ruins in Lembah Bujang, its wooden roofing had since rotted and withered due to the onslaught of age and weather over the past one thousand years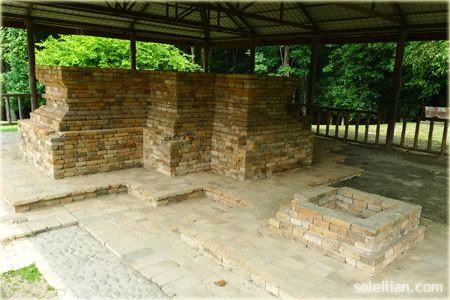 The reconstruction of this 11th-century Buddhist Candi Pengkalan Bujang made it look pretty new and recent
The distinctive reddish appearance of this Hindu Candi Bendang Dalam is due to the laterite bricks used in its construction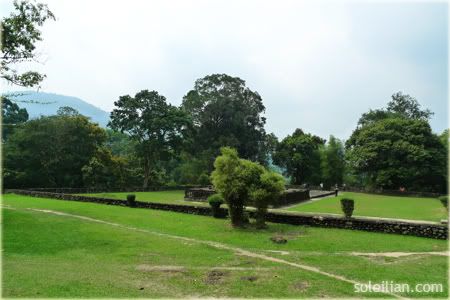 Today, all these temple ruins are situated on a small hill facing Gunung Jerai, Kedah's tallest peak. On most days, you'll find yourself being the only visitor here due to the Government's lackadaisical effort in promoting this place as a potential tourist destination.
Of all my years growing up in the state of Kedah, I'm embarrassed to admit that this was actually my first time visiting this wonderful heritage site. Being a Kedah native, it had always been one of my biggest dreams to touch and feel the ancient grounds of Lembah Bujang. You wouldn't know how thrilled, touched, and inspired I was the moment I made it there. Now that I'd accomplished this task, I feel that I have a strong sense of duty to promote this severely underrated destination to everyone around me, Malaysians and non-Malaysians alike.
Being a Kedahan, a Malaysian, and a nobody who views cultural heritage as something that is almost as precious as his own life, all I can wish is for this place to be accorded the special recognition that it so deserves.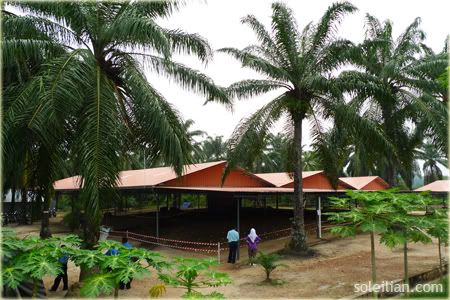 In Sungai Batu in another part of Lembah Bujang, ongoing excavation works carried out by my university's archaeological team and Malaysia's Department of National Heritage have recently unearthed one of the most important and exciting archaeological discoveries in Malaysia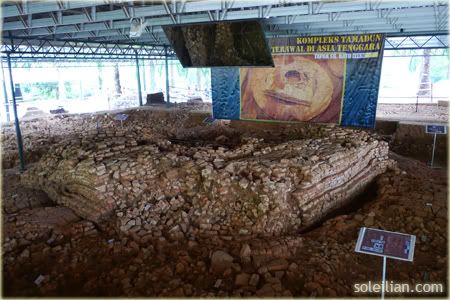 Buried beneath the vast oil palm plantation is this Sungai Batu Monument which dates back 1,900 years to the year 110 A.D. (a contemporary of the Roman Empire, friends!), making it the earliest man-made structure to be recorded in the whole of Southeast Asia. Now that's really something, isn't it? :D
Archaeological grid system to ease excavation works and study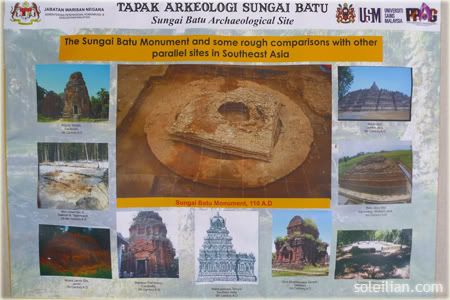 The oldest of all: the Sungai Batu Monument came head to head with other significant ancient Hindu-Buddhist monuments in Southeast Asia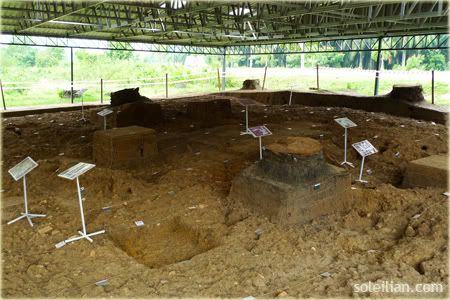 An iron smelting site from the 11th-13th century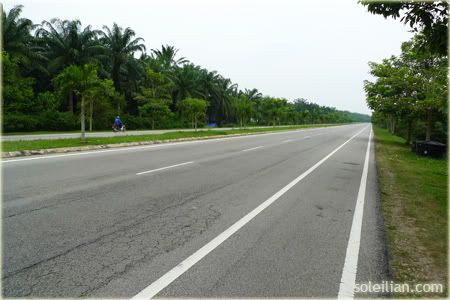 There are probably more ruins underneath this road, I was told! :(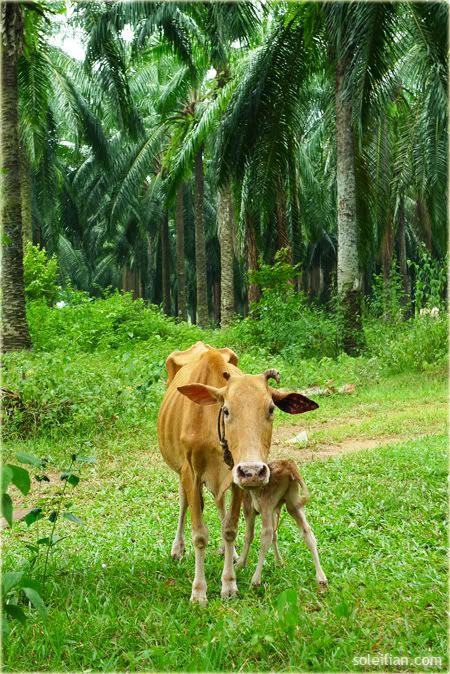 More excavation works on the other side of the road. Spotted here was a skinny cow and its calf.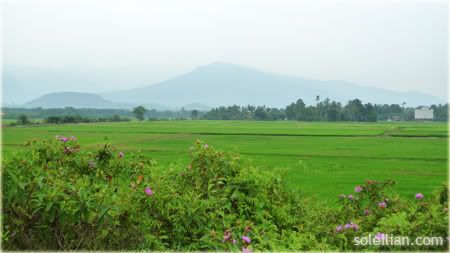 Mystical Gunung Jerai, a mountain considered so sacred by the ancient Malays that they built temples from the foothills up to its summit
On our way back home, we briefly stopped at my paternal grandmother's childhood home. My first time here! :D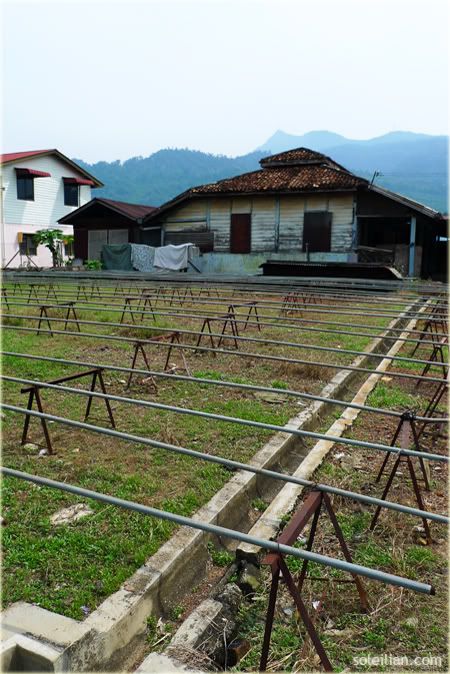 My grandma used to work at this tobacco barn when she was young where her job was to dry the tobacco leaves on these long sticks!
I hope by writing this piece, this forlorn place named Lembah Bujang will get a little more attention in the blogosphere (and beyond), especially from those who love and care about history and heritage. I hereby beseech all of you to set foot in this place at least once in your lifetime. Seriously, it has got all it takes to become Malaysia's next premier tourist destination!
Rumours have it that the Government has plans to propose to UNESCO for Lembah Bujang and the Sungai Batu Archaeological Site to be inscribed on the World Heritage List. If it's true, I'd definitely throw my full support behind this proposal! In terms of historical and archaeological value, the sleepy ruins of Lembah Bujang certainly beat Malacca and George Town hands down. There's no doubt about it!
c a t e g o r y |
passport to nowhere
f l u f f e r p u f f |
kedah
.
malaysia
.
museums
.
religions & spirituality
.
society
.
temples & wats
.
travels
32 sOleiLians