From a Malaysian perspective, North Sulawesi could be a pretty extraordinary destination, a place that never ceases in sending culture shocks to the unsuspecting tourists. The province is quintessentially Indonesian, yet it doesn't take long for first-time visitors to notice that it's not really the Indonesia that has been etched in our minds since young.
The predominant cultural and religious landscape of this region is strikingly different from the rest of the archipelago. It is the manifestation of multifaceted Christianity, the faith of about 70% of North Sulawesi's population, that gives rise to a lot of quirky and surprising scenes that an ordinary Malaysian tourist would never expect to see back in Malaysia. And like what I'd mentioned in this entry, it is somewhat unimaginable to be in Indonesia when the people and their traditions remind you more of the Philippines.
Of course not every bizarre encounter I met was religious in nature. So here are the 12 surprises in North Sulawesi that I managed to observe through my Malaysian eyes:
1. Public proclamation of the Christian faith
Undeniably, religion is a powerful force in Sulut. Yet people here take such great pride in their faith that they take a step further to proclaim it to the whole world. Jesus is everywhere on the streets of North Sulawesi. And for once, is this really Muslim Indonesia?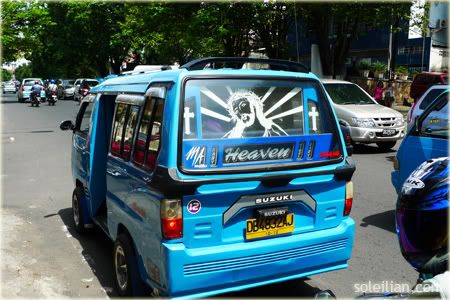 A mikrolet with a huge Jesus car sticker
Yes, God bless you too! ;)
Jesus was even put up for sale! Not for thirty pieces of silver, I hope? :O
2. Allah to denote the Christian God
Well, this is a very sensitive and contentious issue in Malaysia, where non-Muslims are barred from using the term to denote their deity as it is deemed exclusive to Islam (which is painfully ironic when believers of the Abrahamic faiths ~ Jews, Christians, and Muslims alike have been using it for millennia without problems in the Islamic heartlands of the Middle East). In North Sulawesi, these are the unthinkable scenes in public that Malaysians would never ever live to see in our country: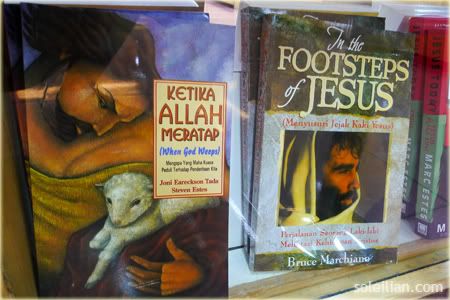 When Allah – oops… I mean God – weeps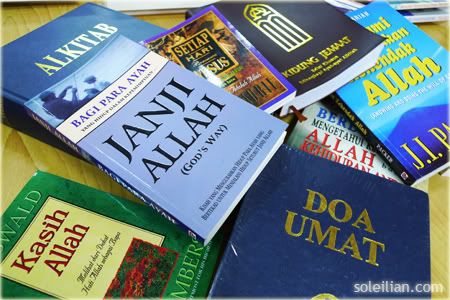 Christian or Islamic? Go figure…
3. Christmas bazaar
I've seen a lot of Ramadan bazaars. But a Christmas bazaar? That was my first.
4. Halal and non-halal stalls side by side
A situation like this would instantly enrage the whole Muslim community in Malaysia, but not in the world's most populous Muslim country! The extent of tolerance and respect between creeds and faiths in this region is truly something I'd never seen before in my life, definitely not in Malaysia.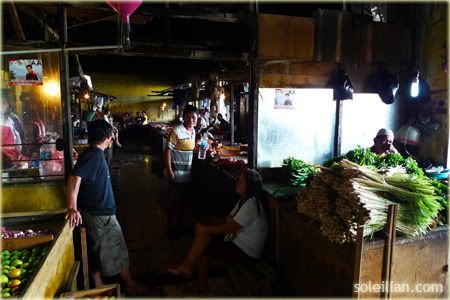 On the inside is the section for pork and dog meat (yes, dogs!) stalls while on the outside, a Muslim vegetable vendor waited patiently for customers to patronize his lonely stall
5. Exotic food paradise
The province's largest ethnic group, the Minahasans, have a bizarre obsession for exotic food. Every species of living creature found in this region could be turned into a prized local delicacy. This is definitely not a paradise for the animal lovers nor the faint-hearted!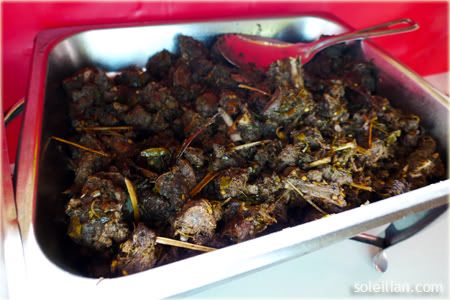 Rintek wuuk (abbreviated as RW), your pet dog marinated in sauce and herbs
6. Chillies in every food imaginable
North Sulawesi's food is renowned for its spiciness. Well, can you imagine they even stuff their kue (kuih; traditional cakes) with whole chillies?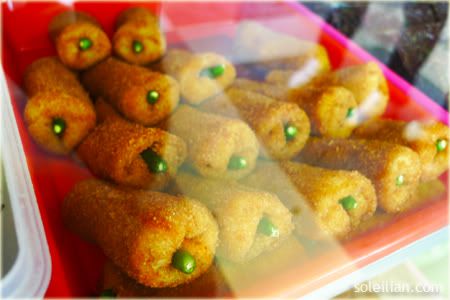 Funny, yummy, spicy? :D
7. Firecrackers are apparently, a legal affair
Malaysians must have missed these so much. We used to play it during the festive seasons when young, but not anymore now ever since a nationwide ban has been imposed on its sale. Some would resort to buying smuggled goods from neighbouring Thailand. But here in North Sulawesi, firecrackers are openly sold in supermarkets! Damn.
Firecrackers filled to the top of the racks! :O
8. Interesting crown of a mosque
The conventional mosques that we're familiar with are usually topped with a bulbous onion dome or a series of domes, but this Masjid Firdaus in Manado caught my attention with its extraordinary crown ~ the inscription of Allah.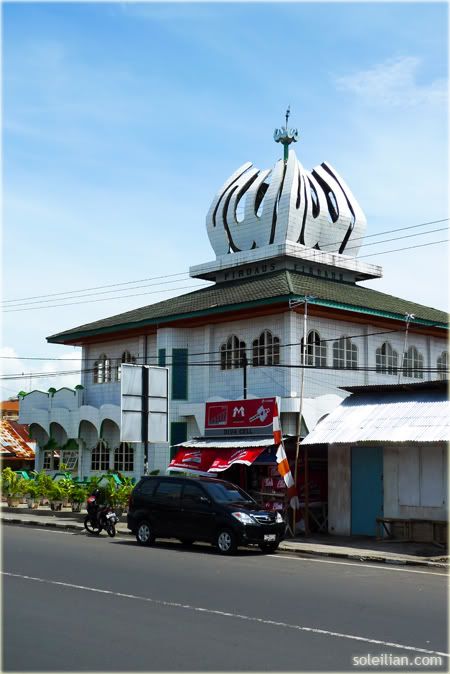 9. Eiffel Tower's sibling
North Sulawesi is certainly one of the last places you would think of seeing a scaled replica of the famous steel structure. I'd shown it in this entry before, remember? ;)
10. Slow, slow, slow your
boat
car
From my observations, everyone seemed to be driving at a relaxed pace on the roads of Sulut ~ somewhere between 40-60km/h. In Malaysia, you would definitely receive millions of honks and curses should you ever attempt that speed on the highways.
11. Malaysian firms spotted
I wouldn't be so surprised if I were in one of the big urban centres of Java or Sumatra. But I was in Sulawesi! I just couldn't help dismissing it as an isolated island where nobody would like to go. And yet in Manado, I was greeted with the names of the big Malaysian banks like CIMB and Maybank. So it ain't that remote after all, I guess!
12. Church-like airport
An international airport with stained glass windows! Now that's churchy. :D
So those are 12 surprising sightings in North Sulawesi from yours truly! And I realized that I haven't been blogging much about the regional food. Let's see…
Tinutuan (bubur Manado) again! This dish was so nice that I insisted on having one last time before we left North Sulawesi till God knows when. Gotta miss the place!
Klappertaart, a coconut-based traditional dessert that became so synonymous with the province since the days of the Dutch colonial era, hence the Dutch-like name. I didn't get to try this as they seemed to be selling it in whole rather than in slices.
Once again, that's a wrappp! Woohoo! If the last travel series took me 6 months to complete, this took me almost 2 years! Muahaha… I'm the epitome of a super inefficient blogger! Anyone up for a challenge? :P
So what shall be my next travel series? ;)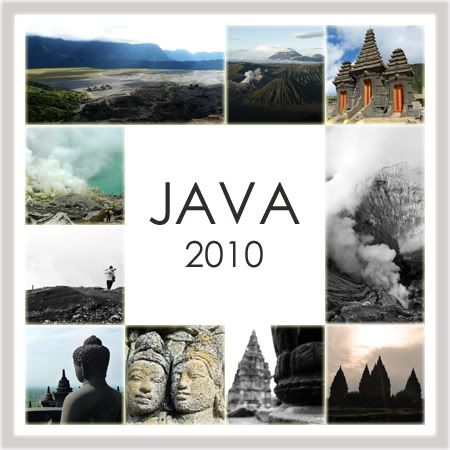 One thousand kilometres on the road. Half a dozen mighty volcanoes. Two world famous UNESCO-listed ancient wonders. And one absolutely breathtaking journey. This is by far my most amazing trip ever and I just can't wait to share it all with you! :D
Here's the complete compilation of MANADO & NORTH SULAWESI TRIP 2009
c a t e g o r y |
passport to nowhere
.
yummylicious
f l u f f e r p u f f |
food
.
indonesia
.
mosques & minarets
.
religions & spirituality
.
society
.
sulawesi
.
travels
25 sOleiLians